The November issue of Real Simple magazine features as its lead story, "How to Make Time for What Matters." That headline describes so well my feelings about the last two whirlwind weeks of time spent participating in our Travel the World in Books Readathon. I can't say enough how much fun it was to make time to instagram daily, write posts, read posts, tackle mini-challenges, join in two Twitter chats, and see and share what everyone was doing to read widely and diversely.  I feel even more motivated to plan for further worldwide reading with the help of all the creative exchanges of book recommendations.  Doing this stuff really matters, and will affect my reading choices in months and years ahead. My thanks to hosts Tanya from Mom's Small Victories, Becca from I'm Lost in Books, Savvy Working Gal, and Aloi from Guiltless Reading; I'm so glad to be among you, for this readathon and for the Travel the World in Books Reading Challenge, with more readalongs and other events (such as Nonfiction November going on now) planned for the coming year.
I was delighted to host a mini-challenge on Favorite Characters and Cover Art, with a Giveaway (by random drawing) of a book displaying some of my own favorite characters in fabulous cover designs. Here are the cover art entries:
Lory of The Emerald City Book Review (who was also the WINNER of this Giveaway!), submitted this beautiful cover depicting the March sisters from Little Women:
My pick for the #TTWIBRAT cover art mini-challenge hosted by @Fictional100: The March sisters by Jessie Wilcox Smith pic.twitter.com/IdeI6ObkVr

— Lory (@LoryECBR) October 25, 2015
Susan at The Book Trail wrote a lovely post about four of her favorite characters, including a cover art collage of them:
Becca of I'm Lost in Books shared her amazing collage of favorite world lit characters on Instagram, which included:
1) Nefertari from The Heretic Queen by Michelle Moran


2) Mr. Darcy




3) Elizabeth Bennet




4) Sherlock Holmes


5) Miriam and Laila from A Thousand Splendid Suns by Khaled Hosseini
6) Lisbeth Salander from The Girl with the Dragon Tattoo


7) Hermione Granger


8) Okonkwo from Things Fall Apart by Chinua Achebe
9) Midori Kobayashi from Norwegian Wood by Haruki Murakami
Emma of Words and Peace shared this amazing cover art:
#TTWIBRAT mini #challenge@Fictional100 favorite #character in #cover art. thanks for the fun challenge Lucy! pic.twitter.com/NeN1BrnrBu

— wordsandpeace (@wordsandpeace) October 26, 2015
Aloi from Guiltless Reading also made a photo collage of four favorites:
#TTWIBRAT mini challenge! 4-in-1 fave characters in cover art! All around the world for this shot! 🙂 @Fictional100 pic.twitter.com/iH3HD8f5Ia

— guiltlessreader (@guiltlessreader) October 26, 2015
Tanya from Mom's Small Victories admired a cover I also found especially striking, from a very moving book about a mysterious little girl: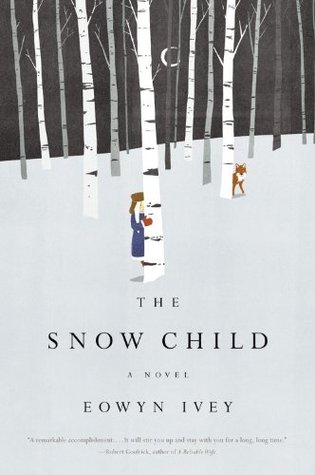 Another favorite character in cover art is The Snow Child by Eowyn Ivey for @fictional100 's… https://t.co/uwHe6f4pfO

— Tanya (@momsvictories) October 26, 2015
Isi of From Isi shared her lovely copy of a book about a favorite teddy-bear character, Henry Brown, who I definitely want to check out!
#TTWIBRAT This is for Lucy's @fictional100 mini-challenge: the teddy bear is called Henry Brown, and… https://t.co/mklciqtVYU

— Isi (@IsiOrejas) October 31, 2015
Sharon of Faith Hope and Cherrytea made this bold collage of one of her favorites, Drew Farthering, who appears in some pretty stylish cover art!
@Fictional100#TTWIBRAT Fav fictional world lit character? #DrewFarthering [collage 4 xtra impact] 😉 TY Lucy! pic.twitter.com/CEl1cIkJCc

— Faith Hope Cherrytea (@_eHope) October 31, 2015
Thanks to all of you for sharing your favorite characters and the snappy, bold, and beautiful covers that display them!
I was so happy to participate myself in Tanya's Instagram challenge all through the readathon, Isi's bookmark pairing challenge, and Heather's creative book photography challenge.  I also worked on my Fictional 100 book map for Aloi's terrific book mapping challenge.  So far, I've finished 68 of 100 characters, with popup pictures and a description for each one. I WILL finish them all, I promise, one day, and I'll post about it again, but for now, here it is:
Oh, yes, and since this was a Readathon, I did read some books!! I read about 100 pages in each of two of my planned books:
Although most of my recent traveling by way of books has taken me to Scandinavia, my reading during this readathon was clearly in Eastern Europe, specifically in Poland and Russia. Stories in these countries seem instantly to attract my interest lately, and that is one of the amazing fruits of this challenge: finding stories (fiction or nonfiction) from new places in the world that speak to one's heart, mind, and spirit.